I was interviewed for an article in the Washington Post about how the Washington polar bears came to be there at the zoo. My part, about our trip to Spitsbergen in 1962 and the CIA, starts part way down: https://www.washingtonpost.com/local/for-years-the-national-zoo-was-home-to-polar-bears-lets-meet-a-few-of-them/2020/02/15/7cec6882-4e94-11ea-bf44-f5043eb3918a_story.html?fbclid=IwAR2M0WS1fkKHLOsjpNngN6cD834AbDqYpMmR2MJfmehuAolUIizNKtMwiXE
For years, the National Zoo was home to polar bears. Let's meet a few of them.
By John Kelly, columnist "About Town" for the Washington Post
Feb. 15, 2020 at 4:54 p.m. EST
In the early 1960s, when I was living on Kenyon Street NW, I often took my two small children to the nearby National Zoo. One of the inhabitants we particularly enjoyed watching was the polar bear. My younger friends and regular zoo visitors tell me they have no recollection of polar bears at the National Zoo. When was the polar bear exhibit terminated, and what happened to the bears?
— Kathryn Scott, Bethesda
For most of its history, the National Zoo, in Rock Creek Park, has been home to the large white carnivores whose natural habitat lies primarily within the Arctic Circle: Ursus maritimus.
Polar bears drew visitors to the zoo. They also provided reliable copy for newspaper reporters, who saw in the ice-loving creatures a good hook during a heat wave. Many newspapers featured stories every summer about how the zoo's polar bears were faring.
In an 1895 hot spell, the Evening Star reported that the zoo's polar bear was fine, cooling itself with frequent baths in its pool. The writer noted one oddity: Unlike the domestic bears, it wouldn't go under an awning in its enclosure. It was thought that the polar bear had no concept of shade, since he came from a land without it.
By 1896, that bear had died — of eczema, it was reported. The zoo had a replacement the following year. In November 1901, the zoo took ownership of another bear, purchased from a German wild-animal merchant called Hagenbeck.
When the zoo wasn't buying polar bears, it was receiving them as gifts. In 1905, another cub came its way, picked up during a mission to rescue members of the Ziegler Expedition, which had failed to reach the North Pole.
In 1959, a cub was found wandering on the ice of the Arctic Ocean about 180 miles east of Point Barrow by the Fish and Wildlife Service, which said the zoo could have the bear if it paid the airfreight.
The zoo couldn't, so WMAL-TV (today's WJLA) stepped in to foot the bill. A viewer contest was held to come up with a name. The winner was Snowstar, suggested by 5-year-old Desha DeVor of Takoma Park. Her family won a trip to Alaska. (Snowstar died in 1980.)
The next cubs arrived in 1962 courtesy of two wealthy, well-connected Washingtonians. And here is where cold climate meets the Cold War.
Ralph E. Becker was an attorney active in Republican circles who served on the board of the Explorers Club. Edward C. Sweeney was a member of the Subversive Activities Control Board, a federal agency aimed at rooting out Communists in government. They enlisted Capt. Finn Ronne, a Norwegian American polar explorer who lived in Bethesda, to organize an expedition.
Ronne chartered a 97-foot seal boat and arranged to procure cubs in Svalbard, the remote Norwegian archipelago.
"Our cover was we were going to Spitsbergen to get polar bears," said Ronne's daughter, Karen Ronne Tupek, who was an 11-year-old Sidwell Friends student when she went on the trip with her parents.
The Becker and Ronne families socialized regularly at Sweeney's house, where another guest was often U.S. intelligence official Richard Helms.
Svalbard, Tupek said, is "a very strategic location for any potential U.S. attack on Russia over the Arctic and vice versa."
A treaty allowed Russians to mine coal in Barentsburg, a town of a few hundred. The expedition got permission to visit the settlement, where they were welcomed with much fanfare.
"What we were looking for was any evidence of radar systems," said Tupek. "We concluded that there was some stuff underground, probably. Of course, they weren't going to show that to us, but obviously there was more going on than just mining coal."
On their return, Tupek's father wrote a long memo to the CIA. She is certain the trip was largely funded by the agency.
In addition to snooping out Soviet resources, the expedition procured four cubs: two for Detroit's zoo and two for Washington, where they joined middle-aged bear Old Joe.
The new cubs were called Cookie, the childhood nickname of the Sweeneys' daughter Harriet, who was also on the expedition, and Donny Boy, after the Beckers' son Donald, who was not.
Said Tupek: "I was hoping to get a bear named Karen but never got one."
In 1978, a polar bear named Mary came to the National Zoo from Chicago's Brookfield Zoo. In 1986, all the bears left. The south-facing enclosure was deemed too hot for animals with such thick fur.
Mary returned to Chicago along with Donny Boy; they remained there until their deaths in 1990 and 1988, respectively. Cookie went to the Detroit Zoo and died in 1996.
If you want to see polar bears, they're close. The Maryland Zoo in Baltimore is home to half sisters Neva and Amelia Gray, who arrived in 2018 from the Columbus Zoo and Aquarium in Ohio.
In 1992, a rather different sort of exhibit opened where the National Zoo's polar bear enclosure had been: Amazonia.
Women of Greater Boca Club:
Was featured "Spotlight:" in August 2020 Newsletter:

SPOTLIGHT - Karen Ronne Tupek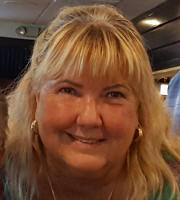 What more is there to say about Karen Tupek? A lot! As the only child of Finn and Jackie Ronne, internationally known Antarctic Explorers, we discovered that Karen has many achievements of her own to celebrate. Let's start at the beginning.
Born in Washington, DC, Karen was reared in nearby Bethesda, MD, and graduated from the Sidwell Friends School in Washington, DC. (Presidents Clinton's and Obama's daughters attended the same school.) In 1973, she earned a B.A. degree in Architecture from Washington University in St. Louis, MO.
Why architecture, we asked? "Besides my father's main career as an Antarctic explorer," Karen replied, "he was a trained naval architect from Norway." As a young girl, Karen loved to watch him execute drawings and, later, construction projects. "Since he was 50 years older, the one thing we enjoyed doing together," she added, "was poking around houses under construction."
Karen cultivated many interests. Folk music became a big part of her life after her great aunt took her to a Peter Paul and Mary concert. Karen taught herself the guitar so she could perform it, too, as she did at coffeehouses around town. Later, at another PPM concert, she got hooked on a new song, Leavin' On A Jet Plane, and figured out the chords by ear. Her friends referred to it as "her song" and requested that she play it everywhere she went. When asked, she would say, "Some guy named John Denver wrote it." This was years before John Denver became an acknowledged star and hit the top of the charts with his recording of Take Me Home Country Roads (she was at the debut performance of that song in Georgetown, D.C.) and, of course, Leavin' On A Jet Plane.
With degree in hand, Karen got a drafting job at a small architectural firm outside of Washington, DC, which the IRS closed down six months later. Drats. Unemployed, but undaunted, Karen went skiing - for the winter. On her return, still unemployed, Karen accepted a luncheon invitation from a friend who worked at the Veterans Administration in downtown Washington, DC. "Come back with me and see my office," her friend had suggested, "and meet my boss who manages the department."
Two weeks later, that chance meeting triggered into an offer of a job. "Sorry," Karen had replied, "I can't start on Monday; I'm going on vacation to Florida." However, she accepted the position, started on Thursday, thinking, "It will do until I get a real job." Alas, 32 years later and after many promotions--the last and jewel assignment as the Federal Historic Preservation Officer for the entire Department, managing the entire department of the Federal Historic Preservation Office--Karen retired in April 2006. It had been a satisfying career that included--among other projects--designing hospitals, nursing homes, clinics and cemeteries, and implementing federal policies for the restoration and preservation of historic buildings. She is proudest of standing up to higher-ups to prevent their destruction of the Tomb of the Unknown Soldiers in Arlington National Cemetery.
As a member of the Ski Club of Washington, DC, Karen had just won the Winter Carnival Club Championship in the Women's division as did a skier who had just joined the racing team and won in the Men's division. At the banquet, she went over to congratulate him as he did to her. End of story? No. Two weeks later, at the next club racing competition against other ski clubs, Karen noticed him standing on the side of the race course. There was something she immediately liked about this handsome skier. Wow, she thought, what did I miss? Look at that athletic body, blonde hair and those penetrating blue eyes. She skied over to him, handed him her camera, and asked, "Would you be willing to take some photos of the gals' club members as they ski down the course?" He agreed and asked Karen if she would like to ski with him for the rest of the day after the races." And the rest is history.
Karen and Alan R. Tupek, who became a high ranking statistician with the Bureau of the Census, were married at St. Albans Church on the grounds of the Washington Cathedral on June 9, 1979. At the end of their storybook reception, attended by an overflow crowd of revelers and well-known celebrities, the first lap of the newly-weds honeymoon to Bermuda was made by a pony-drawn carriage while sounds of popping champagne bottles echoed in their heads.
The Tupek's became devoted parents to a son, Michael, and a daughter, Jaclyn. They have 3 beautiful grandchildren whom Karen spoils with fabulous-shaped designer cakes she bakes for their birthday parties and celebrations (as she did with her own children.) "I bought interesting 3-D cake molds," Karen stated, "and self taught the baking and icing decorating process." No store bought cakes for the Tupek family.
Al and Karen recently celebrated their 40th anniversary and are happily retired in Boca Raton. They continue to enjoy playing tennis and golf, designing websites, traveling to exotic places, skiing, pursuing folk music, and playing Bridge. Karen currently serves on the Board of the Women of Greater Boca. She is a member of the Explorers Club, Society of Women Geographers, the National Society of Arts and Letters, and the Antarctican Society. As homage to her parents, Finn and Jackie Ronne, Karen steadfastly devotes a website covering the history of their Antarctic explorations and frequently lectures about her family's polar heritage. Her mother became the first woman to winterover during her father's private Ronne Antarctic Research Expedition in 1947-8. Karen is joyful she was able to fulfill her dreams of skiing in the Antarctic, visiting there 6 times, and twice semi-circumnavigated around the Antarctic continent. She also participated on two expeditions to Spitsbergen in the high-Arctic, saying, "I'm bi-polar!" She certainly inherited her parent's passion to explore new places.
Dare we ask where Karen gets her energy and resolve? From the luck of the draw? From inherited genes? From her DNA? From all of the above? What say you?